HOODLUM STRAIN OF THE MONTH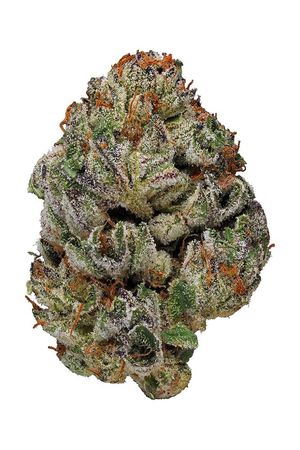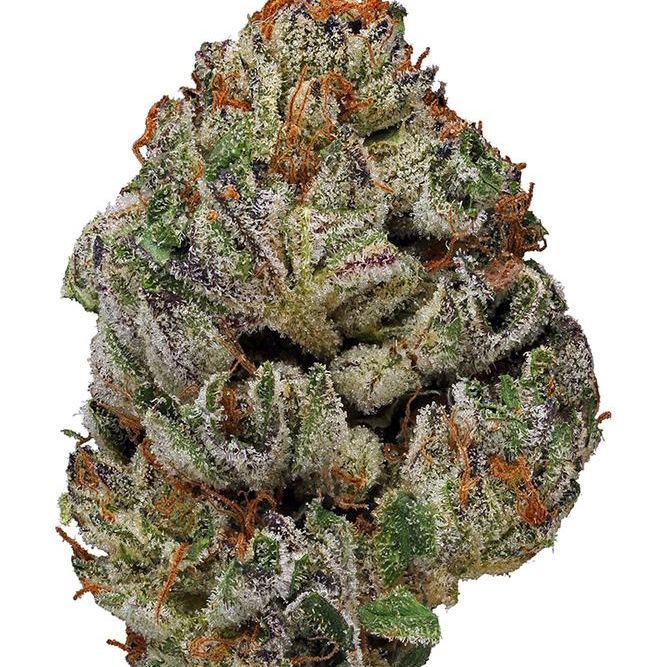 OCTOBER// BIRTHDAY CAKE //KURBE BIRTHDAY STRAIN//
BY KURBE
Alright you hoodlums this months strain is birthday Cake Kush which is an indica dominant hybrid strain that is created through a cross of the insanely delicious Girl Scout Cookies X Cherry Pie strains. Like it's name suggests, this bud has a crazy tasty flavor of fruity vanilla skunk with a hint of sweet nuttiness upon exhale. The smell is a little mellower, with a sweet skunky pungency that has a slightly vanilla overtone. These buds have a super frosty appearance, much like a birthday cake, with large and dense oversized heart-shaped light forest green nugs that have sparse fiery orange hairs. Although this bud is best loved for its flavor, the effects are just as enticing. The high starts with a happy and euphoric uplifted effect that launches your mood into the sky with a complete wiping of any mental pain or racing thoughts. As your mind soars with giddiness, your body will fall into a deeply relaxing and sedative state that immediately locks you to anything you're sitting on. You'll fall victim to a deeply sedated state that will eventually lull you into a deep and peaceful pain-free sleep. These effects and its powerful THC level of up to 24% make Birthday Cake Kush perfect for treating chronic pain, insomnia, headaches or migraines, muscle spasms, and inflammation.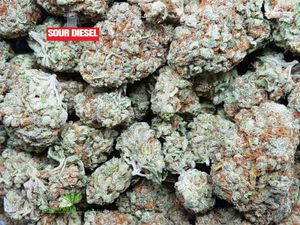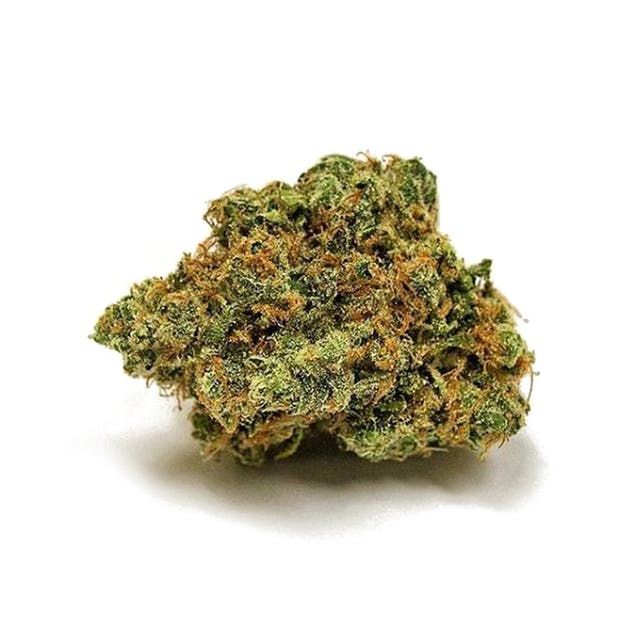 SEPTEMBER// SOUR DIESEL
BY KURBE
Sour Diesel's energized and positive high makes it easy to see why the strain enjoys popularity across the United States. It has spawned popular and flavorful strains like Sour Tsunami and Sour Jack, while inspiring strains like NYC Diesel, which imitates its unique taste. It's as enjoyable in lively social situations as it is when used alone, and its combination of physical and mental effects makes it versatile enough to suit the user's purpose.
Sour Diesel, sometimes abbreviated as Sour D, is an extremely popular strain, distinguished by the fuel-like chemical smell of its flowers. It has a mostly sativa head high with some subtle physical indica relaxation, making it popular among recreational and medical users alike. This is a potent strain, with a THC content that had been measured at between 20% and 25%.
Because the underground cannabis market of the 1980s and 90s operated without any kind of lasting documentation, the exact origins of Sour Diesel are not known. Although a definitive agreement on its original genetic makeup doesn't exist, Sour Diesel's popularity has made it the subject of much speculation. Some believe that true Sour Diesel was derived as a distinct phenotype of an original strain simply named Diesel. Others say that it was a phenotype of Chemdawg that leaned more sativa than indica. Still others claim that it was a cross of Chemdawg and Northern Lights, or perhaps Chemdawg, Northern Lights, and Skunk #1.
Sour Diesel has round, medium-sized buds with leaves that appear yellowish-green. Red hairs called pistils, structures that operate to catch pollen from male plants, contrast with the densely-packed leaves. When properly cured, the flowers are somewhat sticky -- the dusting of trichomes is not as immediately obvious as it is on more resinous strains like White Widow. Nevertheless, breaking open buds reveals trichomes coating the insides of the dense flowers. The buds have an overpowering smell that, true to this strain's name, is very similar to gasoline. The odor also has some hints of orange. Breaking open or grinding the buds intensifies this scent, and adds components of musk and pine sap. Sour Diesel has a notoriously harsh, acrid smoke that can cause users to cough or make their sinuses water. The smoke has a sour and vaguely skunky taste that many describe as unpleasant; on the exhale, the diesel's almost ammonia-like tang stings the palate and may linger for a long time afterward. Smokers trying to remain discreet should be warned that this is a very pungent strain whose odor can carry for quite a distance.
The high from Sour Diesel comes on users quickly in the form of a warm and pleasant head rush. An uplift in mood may be noticeable as well. Although Sour Diesel stimulates synaptic activity in the brain, the character of this head high is more spacey than intensely cerebral. Users may feel chatty if surrounded by others or somewhat introspective if enjoying the strain alone. For many, this soaring high is partially anchored by a slight feeling of physical relaxation. That said, a body stone that leads to full-on couchlock is rare. The sense of euphoria that comes with this variety may be helpful in treating some symptoms of mild stress, anxiety, or depression. Its tendency to lead to associative thinking may provoke a bit of creative inspiration. Fans of the strain also describe relief from troublesome aches and pains. Sour Diesel's combination of mental and somatic effects may also make it a potent aphrodisiac in certain situations. As is common with many strong sativas, the altered mental state brought about by Sour Diesel may prove overwhelming for some, leading to paranoid, recursive thinking or a feeling of being generally "out of control" of one's thoughts or body. Users, especially those with a lower THC tolerance, should adjust their intake accordingly. Sour Diesel has an average-length high that lasts about 2 to 3 hours.
Seeds of Sour Diesel are packaged and available for sale from several seed bank retailers. Growers can also raise plants as clones, taking clippings taken from fully grown plants of the same strain. Sour Diesel can be grown indoors or outdoors, although outdoor cultivation requires semi-humid, Mediterranean-like climates with daytime temperatures between 72 and 80 degrees Fahrenheit. The plants are more characteristically sativa than indica, with a tall, spindly appearance and large spaces between flowering nodes. Plants can grow to be over four feet tall, with their height increasing exponentially during the flowering stage. For those growing indoors, bending and pruning branches early in the vegetative stage may help train the plants to fit within limited vertical space. Sour Diesel flowers within 10 weeks when grown indoors and around early November when grown outdoors. It has a moderately high yield: growers can expect between 42 and 56 grams (or between 1.5 and 2 ounces) per square foot of plant.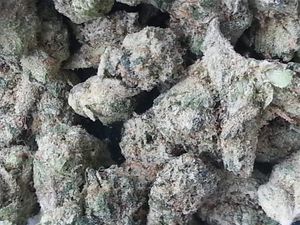 AUGUST// SCOOBY SNACKS
BY KURBE
Alright Hoodlums, this strain right here is called scooby snaks and after smoking some of this the munchies are super serious like have some food close by it happens fast my dog hasnt started talking yet further testing is needed. Scooby Snacks is an indica dominant hybrid strain created through a cross of the potent Platinum Girl Scout Cookies X Face Off OG strains. Although the exact indica to sativa ratio is unknown for this bud, it is considered to be pretty indica heavy because of its crazy powerful munchies-inducing body high. The Scooby Snacks high starts with an uplifted euphoric effect felt in the eyes and forehead that offers a substantial mood boost coupled with a sense of calm in both mind and body. This effect will slowly spread throughout the rest of your body with a numbing tingly sensation, leaving you sedated and completely relaxed. As the body high builds, you'll fall victim to an insane case of the munchies that will have you eating anything within sight (hopefully not dog treats). These effects coupled with a powerful THC level that has been measured as high as 22% make Scooby Snacks ideal for treating patients suffering from depression, chronic stress or anxiety, chronic pain, nausea, and appetite loss. Scooby Snacks buds have round and super dense fluffy purple nugs with dark forest green leaves and sparse orange hairs. This bud has a flavor that's sweet and earthy with a piney OG Kush overtone. The smell is just as pleasant, with a fresh pine aroma that's complemented with sweet kush and earth.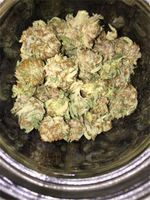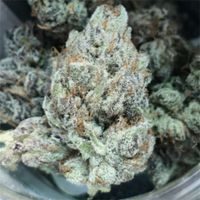 JULY// SUPER 'RO STRAIN// GELATO
BY SUPER 'RO
MY PERSONAL FAVORITE. Always gets the job done. No matter what. I've never really looked into the strain so I thought this was the perfect opportunity to educate my self & ALL Hoodlums All Over The World. LOL. Let's take a look at what I came across.
GELATO (also referred to as "Larry Bird") is another tantalizing hybrid cannabis strain from Cookie Fam Genetics, following in the footsteps of its parents Sunset Sherbet and Thin Mint GSC. This Bay Area, California native gets its name from the fruity, dessert-like aroma, a common genetic thread among the Cookie family. Her buds tend to bloom in dark purple hues illuminated by fiery orange hairs and a shining white coat of crystal resin. Novice consumers may want to approach this THC powerhouse with caution, but those armed with a high tolerance will delight in Gelato's heavy-handed euphoria. Physical relaxation comes on strong, but many find themselves still mentally agile enough to stay productive and creative when enjoying Gelato during the day.
Get your hands on some and smoke like 'Ro!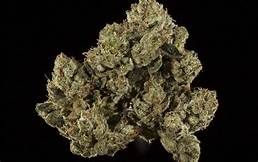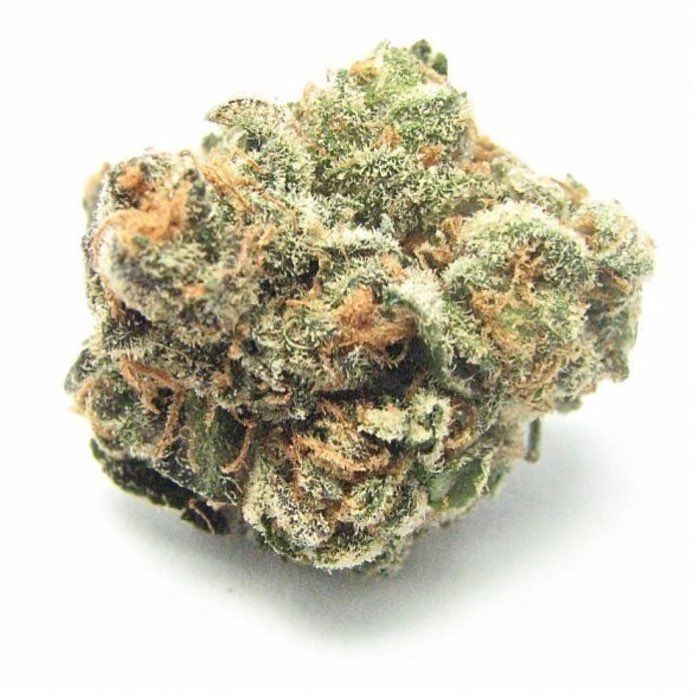 JUNE// GARLIC COOKIES AKA G.M.O.
BY KURBE
The hype on this strain is real! Garlic Cookies AKA G.M.O, or G.M.O aka Garlic Cookies (depending on who you ask) is one of my favorite new strains on the scene. It has a one-of-a-kind "ethnic flee market" aroma with notes of curry, moth balls, and musty vintage fabrics. The high is crisp, in-the-zone, and buzzing with Chem energy. Makes otherworldly ice wax & live-rosin! If you love this strain like i do, we already have a lot in common.
Genetics:
Chem Dog x GSC. Chem Dog dominant phenotype.
Essence:
The aroma has notes of curry, moth balls, musky incense, & musty vintage fabric. Opening a jar of GMO fills the room with an essence that's reminiscent of an old musty ethnic flee market. Both the classic "musty sock drawer" essence of Chem D (aka Chem Dirty Sock pheno) and the "spicy curry thin mints" essence of Forum Cookies can be noticed in the taste on exhale. A very elegant vintage skunky flavor that fans of Chem Dog & Sour Diesel will enjoy.
Effect:
The high is in-the-zone, full-bodied, and radiating with Chem energy. GMO delivers a crisp 'Sour Diesel like' buzzing body-high without the heavy couch-lock of Cookies. Makes superb extracts that retain the classic flavor of Chem Dog. A great daytime strain, or anytime strain!
Extracts:

This is a supreme hash plant! Produces outstanding live-resin, ice wax, dry-sift, & rosin. In extract form the high starts off with buzzing Chem energy and fades into a relaxing Cookies high. The strength of the body high becomes much more pronounced in extract form.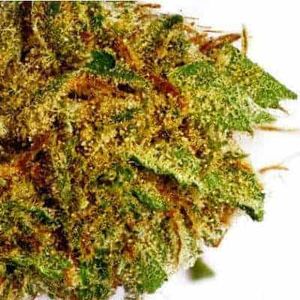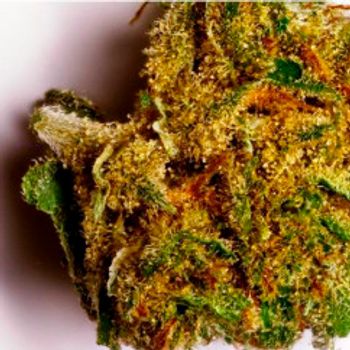 MAY//BATGIRL
BY KURBE
Alight this months strain is called Batgirl, Batgirl is a sativa-dominant hybrid with beautiful effects. This Jack's Cleaner and Blueberry cross brings out a unique and pleasant aroma of sweet berry and spicy chemicals. The strain's hybrid effects express themselves as a heady euphoria that uplifts the mind while gently coating the body in calming haze. Weight can be felt on the eyelids as Batgirl circulates a warm, calming sensation through the body, making this strain ideal for consumers looking to shrug off stress and fatigue while improving mood.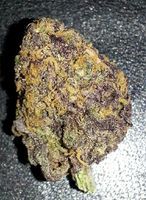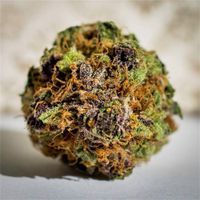 SPECIAL 4/20 STRAIN - PURPLE URKLE
BY KURBE
Aright all you 4/20 cannabis crushing crusaders in search of the finest an strongest herbs a Hoodlum can enjoy! This month we have the strain Purple Urkle.
Purple Urkle's history is as complex as its flavor palate. A California strain, the origins are believed to stem from a select phenotype of Mendocino Purps, while the essence is a blend of skunk, berry, and fresh grapes.
The effects from the Purple Urkle strain are extremely relaxing and can become quite sedative in large doses. Accordingly, it can be a great aid for those with insomnia hoping to fall asleep faster.
Being a potent Indica, I definitely recommend this for night-time use. Also a great cannabis strain to medicate with after long hours of tough labor (yard work, sports practice, etc…). It has been applauded for its ability to eradicate stress and provide full-body pain relief.
Much love to all you hoodlums stay humble an get you some of this you deserve it.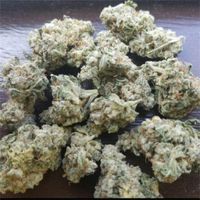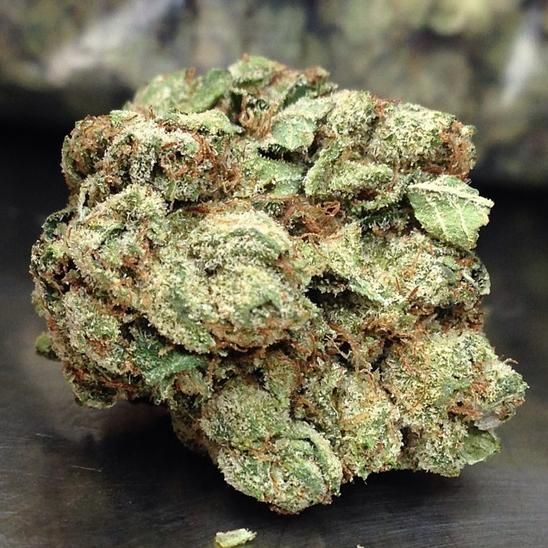 APRIL: OG YODA
by kurbe
Alright hoodlums here is the first ever hoodlum strain of the month and let me tell you like wu tang it aint nuttin to fuck with this month we have Yoda OG,a descendant of the legendary OG Kush, it is an indica-dominant strain that induces heavy relaxation of the mind and body. This strain boasts its OG genetics with chunky pale buds, a tangle of orange hairs, and a pungent citrus aroma. Its sedating, euphoric effects make it a popular medicine for anxiety and insomnia, and it also provides an extra kick to the appetite. Seasoned consumers may be able to withstand its heaviness during the day, but Yoda OG is most popularly chosen for nighttime consumption. So if you have issues sleeping or high stress an cant eat properly i strongly recommend this strain for you.